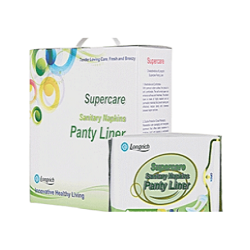 A pantyliner is a thin absorbent piece of material or pad won by women to absorb light menstrual flow or vaginal discharge or used for feminine hygiene.
It is worn in the gusset of a woman's panties. Some uses include: absorbency for daily vaginal discharge, light menstrual flow, tampon and menstrual cup backup, spotting, post-intercourse discharge, and urinary incontinence.
it is very common and a natural phenomenon in women to have some discharge during the day. It can make things uncomfortable, sometimes embarrassing and even damp, especially during workouts.
Thus, a pantyliner helps to maintain a moist free, fresh and clean feeling throughout the day. It works best if change every once or twice a day.
This thin versions of pads that female wear inside their undies does a lot, to prevent stains and keep their underwear clean for those who don't watch their panties everyday. 🫣
What is the different between pantyliner and menstrual/sanitary pad??
Panty liners are very much like your sanitary pads, only that it is thinner, smaller, and less absorbent. However, unlike sanitary pads that are used during period(menstruation) days, panty liners are meant to be used during non-period days when you may experience vaginal discharge and/or spotting."
Pantyliners come in two types: Anti-bacterial and Everyday Fresh/Daily fresh
Anti-bacterial liners are used when you experience excessive discharge or blood spotting as a result of infections, etc.
Everyday Fresh liners absorb daily discharges and leakages.
This now lead us to our LONGRICH Superbklean Magnetic Anion Panty liner
DESCRIPTION: LONGRICH SUPER MAGNETIC ANION PANTYLINER is a natural product
🤔Question: Are you experiencing Ceased menstruation /irregularity menstruation as a lady?
🤔Or you want to prevent rashes, inching around the vaginal , infections , odors or any gynecological disease?
Then,
📍 Longrich Panty liners is here for your solution!
Longrich Magnetic panty liners is effective in treating and preventing fibroid, fatigue, foot odor, gynecological infections, whitlow,
It contain 3 powerful components : Bio-Magnetic Energy which gives energy and enhance self protection,
Far infrared prevent and cure gynecological disease such as ovarian cyst, vaginal infections,
and ANIONS which kills bacteria, eliminate odors, inching and rashes around the vaginal
1 box contains 16 packs of Panty liners and 1 pack has 30 pieces in each.
🔺 Note : this panty liners is not suitable/ can not be use by pregnant women
It has Four LAYERS :
1st Layer : Premium Cotton Surface – soft and Comfort.
2nd Layer: Magnetic, Anion and Far Infrared Strip – Avoid odor and relieve Menstrual Discomforts
3rd Layer: Soft Air-Laid Paper, Enhance softness and freshness.
4th Layer : Breathable Bottom Layer -Eliminates Moisture and heat fast, keeping you fresh.
KEY FEATURES OF Longrich Panty Liner
* Prevents Toilet Infection
* Serves as Anti-tumor, Presence of Anion helps to treat infection & kill 99.9% Bacteria
*Eliminates odour, itching and reduces stress in women.
* Relieves Menstrual Discomfort due to Infection.
* Helps in relieving Pains of Arthritis and Rheumatism by placing on the affected areas.
*Prevents Urinary Tract Infection ( UTI).
* Helps in relieving Prostrate problems and prevents Prostrate Cancer (from 40 years) in men.
*It can effectively restrict the growth and survival of Bacteria and Viruses.
*Activates Metabolism and Improves Secretion and Immunity.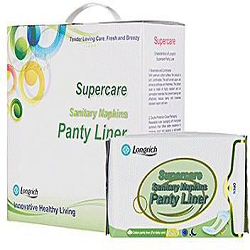 Do you know that a lot of women are battling with infection and stress?😱
ANION BENEFITS:
* LOWER OUR STRESS LEVELS
* BOOST OUR ENERGY LEVELS
*ACTS AS A NATURAL ANTI- DEPRESSANTS
*STRENGTHENS OUR IMMUNE SYSTEM
*HELPS US SLEEP BETTER
*REINFORCES COLLAGEN PRODUCTION
*IMPROVES OUR BLOOD CIRCULATION
*INCREASES MENTAL ENERGY
1.Corrects hormonal imbalance
2.Corrects ovulation cycle
3.Protects from infections and also disinfects.
4.Treats a blocked fallopian tube by clearing, extracting and evacuating the obstruction.
5.Best antidote to family planning
6.Resets a displaced womb.
7. Removes a developing fibroid at its early stage and also can remove even developed ones if used constantly and continuously.
8.Relieves muscular and joint pains.
9.Dissolves tough boils and growths.
10.A great remedy to infertility.
11. Helps to relieve aches like headaches…
12 Helps to treat and make wounds to heal fast, including surgery wounds.
13 Effective in treating whitlow
1.Sprinkle few drops of water before use, to activate the anion strip. This (Applie to 8, 9, 11,12, and 13 above)
2. Wear one, morning till evening. Replace in the evening for overnight wear.
3.Place the activated pantyliner on affected area and bandage for firmness but not too tight or with plaster. (This applies to benefits 8, 9,11,12,and 13…).
Just like you use Pads for menstrual periods. Pantyliner can be worn inside your panty and possess an adhesive strip at the back in order keep them in place. A Pantyliner should be placed in a HORIZONTAL POSITION on your panty or boxer.
A Pantyliner should be immediately change if it becomes Excessively Moisture.
Use Pantyliner when you are experiencing POSTPARTUM (DELIVERY) BLEEDING, called LOCHIA.
The Bleeding is not the same as the Monthly Periods. LOCHIA last up to 6 weeks at most after childbirth and it is HARMLESS.